Budget
Rent a car and explore the far-flung reaches of the island. Car rental offices at Lynden Pindling International Airport and off Shirley St on Shirley Park Ave near downtown. Free pickup service. Tel 377-9000 or 325-8154 or visit www.budget.com.
PHOTOS: Click on photo(s) to enlarge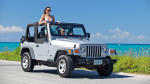 CONTACT INFORMATION
Phone: 242-377-9000 | Phone: 242-325-8154 | Fax: 242-323-7545 |
PO Box: SS-6242
Shirley Street, Nassau, New Providence, Bahamas

E-Mail: Click here
Internet: https://www.budget.com

---
Disclaimer:
Information in editorial and listings is subject to change at any time.