Atlantis, Paradise Island
A Wide Variety Of Restaurants
With 21 restaurants and 19 bars and lounges, Atlantis offers true variety in dining and entertainment. Reservations are suggested in some restaurants and required in others, tel 363-3000 ext 29 or visit www.AtlantisBahamas.com. Dress code: Indoor attire allows T-shirts or polo shirts, shorts or jeans, sundresses or skirts or similar apparel; resort elegant attire calls for dress T-shirts or polo shirts, slacks, sundresses or skirts or similar apparel; jackets recommended calls for button-down shirts, slacks, evening dresses or skirts or similar apparel.
Bahamian Club offers traditional steakhouse cuisine in an inviting club atmosphere. Begin with a gourmet salad followed by the finest cuts of succulent steaks or enjoy chicken dishes and fresh grilled seafood. Dinner. Resort elegant attire. Reservations required.
Casa D'Angelo offers an extensive menu of traditional Tuscan fare laced with southern Italian accents in an intimate setting. Choose from antipasti such as beef carpaccio or tiger prawns wrapped in Italian pancetta. Enjoy one of Chef Angelo's signature dishes, from veal chop Gorgonzola to pan-seared branzino. An extensive wine list offers the perfect pairing to your meal. Finish off with espresso-soaked tiramisu. Dinner. Resort elegant attire. Reservations required.
Stimulate your senses and awaken your taste buds at Chop Stix, where contemporary Chinese cuisine meets the Pacific Rim. Only the freshest, highest-quality ingredients are used to prepare delicious meals to tempt any palate. Start with traditional favourites such as spicy soy chicken dumplings or pan-fried pork pot stickers. Unique entrees include wok-seared grouper and coconut mango curry chicken. Dinner. Resort elegant attire. Reservations required.
Fish by Jose Andres is a new restaurant by celebrity chef Jose Andres, and features the freshest seafood skilfully transformed into memorable dishes using everything from crustaceans and tuna to lion fish and Bahamian conch infusing the authentic and fresh flavours of The Bahamas.
Mosaic is a Mediterranean-influenced restaurant which features action cooking stations to prepare dishes on demand, from fresh fish to churrasco. Breakfast and dinner. Indoor attire for breakfast and brunch, resort elegant attire for dinner.
At Murray's enjoy a breakfast of all-American platters, bagels and lox and Murray's flapjacks. For lunch and dinner, enjoy smoked fish, matzo ball soup, towering deli sandwiches, brisket and more. Eat in or takeout. Breakfast, lunch and dinner. Indoor attire.
Experience innovative Japanese cuisine at Nobu. Savour favourites including new-style sashimi and yellowtail with jalapeno. Guests six years and older welcome. Dinner. Resort elegant attire. Reservations required.
Renowned chef, restaurateur, author and television star Todd English brings his interpretive Mediterranean cuisine to Atlantis with Olives. The menu's big, bold flavours showcases the freshest fish, succulent meats, seasonal vegetables, signature flatbread pizzas, focaccia and house-made pastas paired alongside award-winning wines and artisanal craft cocktails. Breakfast, lunch, dinner and late night. Just off the casino.
Poseidon's Table offers a bountiful breakfast with an array of morning favourites. At dinner you will find eclectic cuisine choices, from a Mexican grill station featuring fresh made tortillas, a tandoori oven serving authentic Indian dishes, to a Japanese sushi station and a traditional meat carving station. No meal would be complete without a visit to the dessert bar with more options than you can imagine, including a full chocolate fountain. Breakfast, dinner and Sunday brunch. Indoor attire.
The Cove is thrilled to welcome Sip Sip, the first outpost of the chic Harbour Island culinary mainstay. Sip Sip is poolside and oceanfront at The Cove and serves "Caribterranean" cuisine by the inimitable Bahamian chef Julie Lightbourn.
Satisfy your craving for ice cream, gelato and sorbet at Sun & Ice, located in The Coral's lobby lounge. Taste the flavours of The Bahamas with Bahamian chef Wayne Moncur's unique frozen treat creations featuring seasonal fruits, herbs, teas, spices and seeds found in farms and gardens throughout the islands such as sea grapes, sapodilla, soursop and more. Open daily 11:30am-10:30pm.
Enjoy barbecue steeped in the storied tradition of the American South, using the world-famous styles of Tennessee, Kentucky, Texas, the Carolinas and Missouri at Virgil's Real Barbecue. Family-style dining is taken to new heights in this rustic and casual restaurant using a range of rubs and marinades all enhanced by hours of gentle smoking over hickory, oak and fruit woods. Guests can enjoy Virgil's famous barbecue platters with home-style sides such as smoky Memphis BBQ beans. Finish off with sweet favourites like fresh fruit cobbler and see why Virgil's is the place to go in The Bahamas for a touch of the South. Lunch and dinner. Indoor attire.
Marina Village at Atlantis offers five restaurants.
Rediscover the timeless elegance of the famed Cafe Martinique. The French gourmet cuisine of renowned chef Jean-Georges Vongerichten is served in a contemporary setting and an intimate atmosphere with graceful candlelit tables and sweeping marina views. Resort elegant attire. Dinner. Reservations required.
Enjoy the lively atmosphere and family-style dining at Carmine's. Sumptuous platters of classic Italian
recipes are served in abundant portions to share, just as they are in the original New York landmark. Dinner. Indoor attire. Reservations recommended.
Frankie Gone Bananas, Nassau's favourite fish fry restaurant takes over Bimini Road bringing a taste of the island's rich culinary flavours to Paradise Island. The Marina Village outpost offers guests a range of Bahamian dishes, from mahi mahi and cracked and grilled conch to fresh lobster tail accompanied by signature island sides: peas 'n rice, mac n' cheese and fried plantains. Patrons can also taste the rum-based Goombay Smash and Bahamian favourite Sky Juice, a traditional blend of gin, coconut water and sweet milk.
McKenzie's Conch Shack is famous for having some of the best conch salad in Nassau. McKenzie's opens its first outpost at Marina Village with the same live conch preparation-a "true true" Bahamian culinary experience. Guests are encouraged to pull up a bar stool as they watch local chefs prepare conch salad (said to be an aphrodisiac) with fresh, local citrus. The restaurant also serves Sands Bahamian beer, a variety of mixed drinks and daiquiris.
Pirate Republic is rated one of the best micro-breweries in the Caribbean. Pirate Republic at Marina Village offers a variety of local Bahamian beers and "bar talk" about the history of pirates in The Bahamas. The brewery features signature drafts from the Long John Pilsner (crisp and refreshing), to the iconic Island Pirate Ale (flagship Bahamian India Pale Ale) and the Gold & Haze of Piracy (wheat-based Belgian Ale). Pirate Republic's light bites range from fresh jerk chicken to ahi tuna and a variety of burgers.
Succulent seared and grilled fare awaits your discovery in the modern steakhouse ambience of Seafire Steakhouse. Starters from shrimp cocktail to Andros shrimp and lobster cakes complement entrees of fresh seafood and the finest cuts of beef, along with a variety of signature martinis. Dinner. Resort elegant attire. Reservations recommended.
The Village Burger Shack offers a casual family-friendly dining experience with indoor and alfresco dining. The menu features a selection of gourmet burgers, fresh fish, vegetarian dishes, salads, an extensive list of sides, Ben & Jerry's ice cream and unique shake combinations, as well as other beverages. Open for lunch and dinner. Indoor attire.
Other speciality offerings are: Starbucks, where you can awaken your senses with rich flavours and delight in an unforgettable coffee experience in paradise, with additional locations at The Reef Atlantis and The Coral, and Ben & Jerry's, the ultimate ice cream parlour, with favourites such as Cherry Garcia and Chunky Monkey.
PHOTOS: Click on photo(s) to enlarge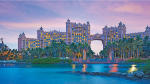 CONTACT INFORMATION
Phone: 242-363-3000 ext 29 | Fax: 242-363-6300 |
PO Box: N-4777
Paradise Island Shopping Plaza, Paradise Island, Nassau, New Providence, Bahamas

E-Mail: Click here
Internet: https://www.atlantisbahamas.com

---
Disclaimer:
Information in editorial and listings is subject to change at any time.