Previous
Warwick Paradise Island
This all-inclusive, adults-only resort situated on Paradise Island overlooking Nassau Harbour, features a variety of international and Bahamian dining options with five restaurants and two bars. Day and night, and deluxe night passes available-reservations required. Harbour Dr, tel 363-2560 or visit warwickhotels.com/paradise-island-bahamas.
Enjoy fine Italian a la carte dining in an "old world" atmosphere at Abbiocco. The menu features an excellent selection of cured meats, grilled vegetables and cheeses from the antipasto bar; delicious, fresh-made focaccia bread; and rustic Italian entrees from grilled meats, pastas and fish. Reservations required. Resort evening attire. Night pass participant.
Chickcharnie's Pizzeria & Grille offers fresh hand-made pizzas, quesadillas, burgers, salads, conch fritters, jerk wings and more. Open daily 10:30am-6pm. Day pass participant. Late-night snacks available 10pm-2am.
Edgewater Grill features fine steak and seafood dining indoors in nature-inspired surroundings or outdoors overlooking Nassau Harbour. Choose from a selection of tender meats, fish and seafood, seasonal soups and delicious home-made desserts. A la carte wine and champagne list available. Reservations required. Resort evening attire. Deluxe night pass participant.
Savour the traditional cuisine of the Far East at Tings on a Stick, Nassau and Paradise Island's newest Asian restaurant. Discover classic dishes from China, Japan, Indonesia and Malaysia such as pad Thai, wonton soup, kung pao chicken and nasi goreng for dinner in casual, brightly-lit surroundings. Resort evening attire. Night pass participant.
Verandah offers beautifully arranged buffet islands with a wide selection of delicious local and international cuisine. Nightly menu themes include a variety of soups, fresh salads and fruits, main courses, homemade fresh-baked breads and decadent desserts. Enjoy breakfast or lunch poolside on the patio or a casual dinner indoors. Breakfast/lunch: resort casual/informal attire. Dinner: resort casual attire. Day and night pass participant.
PHOTOS: Click on photo(s) to enlarge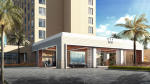 CONTACT INFORMATION
Phone: 242-363-2560 | Fax: 242-363-1220 |
PO Box: SS-6378
Harbour Drive, Paradise Island, Nassau, New Providence, Bahamas

E-Mail: Click here
Internet: https://www.warwickhotels.com/paradise-island-bahamas

---
Disclaimer:
Information in editorial and listings is subject to change at any time.